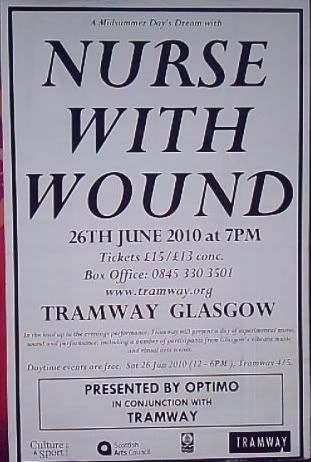 Well at long last
Nurse with Wound
finally made it to Scotland with a special all-day event at the
Tramway
arts venue in Glasgow -
'A Midsummer Days Dream'
There were a whole host of things happening - way to much for me to list/detail, by lots of other artists and bands before NWW rounded the nite off. So if you need more detail than this blog'll ever give you ;-) click
here
for a program of the performances and the performers (you'll need Adobe Acrobat Reader which you can get
here
)
err...first I cocked up by arriving a bit late, desperately needing to eat, and generally being disorganised! So I missed
Carla Tolmie
unfortunately, so first up was
Vernon & Burns meet Lied Music
but Mr Burns wasn't there??? They played one long piece on various electronic gizmos and also things like baloons, toy trumpet, banjo even the chair one of them was sitting on! Good stuf indeed!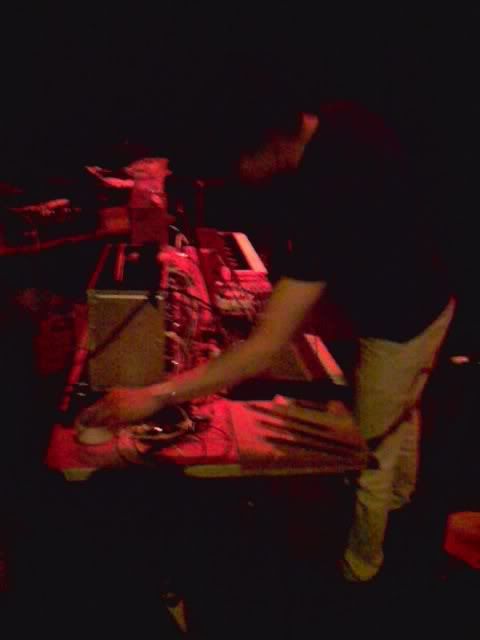 Vernon & Burns meet Lied Music

OK next was
Raydale Dower
who created a very surreal piece,
'Beethoven's 5th'
played on 8 different turntables and all at different speeds! Wasn't too sure before-hand but I reckon it's the ONLY way to listen to it ;-) Raydale Dower
Of course inbetween sets you could lounge about in the sunny gardens - yes in Scotland!!! Where I spotted Mr Stapleton having a fly fag break ;-)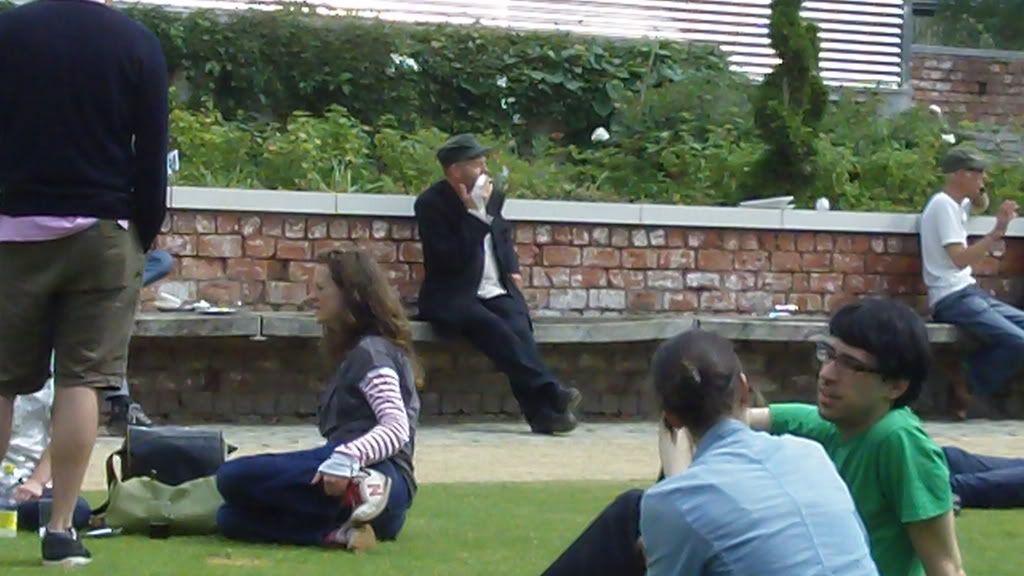 Steven Stapleton has a fag break
The next performance was by
Muscles of Joy
- an 8 piece all-female band, all of whom sang, most had a shot on the drums, played brass, guitar, violin, bass, squeeze box and various percussion instruments and they sounded and looked like this....

And then of course the wonderful
Nurse with Wound
who for this event consisted of
Steven Stapleton
,
Andrew Liles
,
Colin Potter
and
Mathew Waldron
, also guest vocals by one of
Muscles of Love
& saxophone by someone else I completely failed to hear what their names were - sorry.


NWW played essentially one long piece, well a few smaller ones that ran into each other, and in almost complete darkness as some very surreal film played behind them as you can see from the excerpts below...
Excerpt #3 - Finale


can't wait for them to come back again - all-in-all a brilliant day :)