..further to my earlier post....
Yes it's competition time courtesy of
http://dil23.blogspot.com
&
www.soleilmoon.com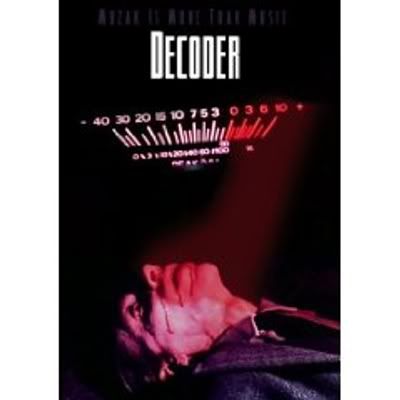 Having recently purchased a DVD copy of Decoder but been mistakenly sent 2 by soleilmoon. They decided that they didn't need the extra copy and told me to keep it! As I very much doubt I'll ever have the need to play the copies simultaneously - I'm giving away the extra copy
***FREE***
inc P&P (only if in the UK!)
Here's the chance to win a BRAND NEW DVD (sealed an' everything!) of the cult film
DECODER
directed by Klaus Maeck and featuring William S. Burroughs, F.M Einheit, Christiane F., Genesis P.Orridge and Bill Rice.
Features include:
New '
color-rich
' transfer of film
Newly translated english subtitles (it's in German ;-)
The original trailer
Interview with Klaus Maeck
Excerpts from '
Pirate Tape
' (Derek Jarman films Burroughs on set)
Documentary on the Italian 'Decoder Collective'
Berlin riot footage
Slide show
+++++++++++++++
Bonus CD
of the soundtrack featuring Soft Cell, Einsturzende Neubauten, Matt Johnson (The The), Dave Ball & Genesis P.Orridge, William S. Burroughs and Christiane F.
All you have to do to win it is send me a picture!
Rules (got to be some?)
You
MUST
send me an original picture to qualify for the draw (anything!!! drawings, paintings, photos, a pic from your phone etc)
Pictures should be sent to
dil23@myspace.com
(This is myspace all pictures
MUST
conform to their posting rules, eg sizes, format, dodgy content etc see
here
if you're unsure)
You give me the permission to post your submitted picture in an album on my myspace page.
Closing date for entry to competition is 14th February 2010 23:59 GMT
The winner will be chosen at random (names taken from a hat/bag/box/receptacle)
If you are outwith the UK you will have to contribute to the P&P - sorry :(
Winner will be notified 15th February 2010, this blog updated, bulletin issued etc etc.

DO NOT SEND YOUR ADDRESS!!! - I WILL ARRANGE WITH WINNER WHERE THEY WOULD LIKE THEIR PRIZE SENT TO

.